Today in Tech: Apple's iPhone Creams the Competition in Profitability
While the iPhone has just 30% market share (depending on which numbers you use), Apple takes the lion's share of the profits.
MINYANVILLE ORIGINAL Earlier this week, comScore (SCOR) reported that Google's (GOOG) Android OS has 51% of the total smartphone market in the US, and Apple (AAPL) has 30.7% of the market. Though these numbers clash with numbers of activations reported by the major US carriers in their earnings statements, the profitability of the phones is another story. Today, Asymco broke down the share of the total profits for the global mobile phone market by vendors.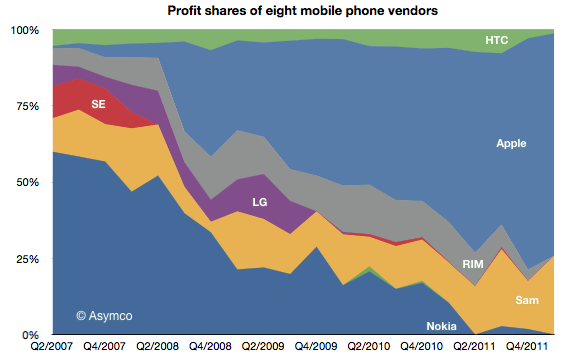 This chart really shows the stark contrast between Apple and its competitors. The iPhone is plainly more profitable.

Asymco's interactive chart shows this contrast in terms besides just share of profit. The chart lets you compare not only profit, but several other metrics. It also allows you to watch Apple's meteoric rise, Nokia's (NOK) tragic fall, and the short-lived reign of the BlackBerry (RIMM) from 2007 until today.

It isn't just the handset makers that can't hold a candle to Apple. Google lost money developing Android in 2010 despite making $97.7 million in revenue on it. This little tidbit came out in the intellectual property infringement case between Oracle (ORCL) and Google over the latter's unlicensed use of Java APIs. Yesterday, a juror asked what should be done if a unanimous decision can't be reached, raising the possibility of a deadlock. If there is a deadlock, this might be good news for software developers. This stage of the trial basically decides whether a programming language, or an API, are copyrightable. Oracle says yes. Google has always maintained that this is not the case. If the court does decide that Google infringed Oracle's rights, things will get risky for developers. Millions will be spent on lawsuits, protective patents, and patent trolling. All of this would have a chilling effect on the software industry.

Along with better-than expected earnings, LinkedIn (LNKD) also announced yesterday that it plans to acquire SlideShare, an online service that lets professionals share documents and presentations, for $119 million.

Facebook set the price for its upcoming IPO yesterday at $28 to $35 per share, giving the social network a valuation of about $96 billion. That's about half of Google's market capitalization, but with only one tenth of the earnings. For the last four quarters, Facebook has only earned $972 million in total. This means Facebook is asking investors for 99 times earnings. Only three S&P 500 companies have higher P/E ratios.

Does that sound fair? The Financial Times put together a tool that lets you tweak predictions for Facebook's future performance to see its potential market value will change.

Twitter: @vincent_trivett
< Previous
Next >
View As One Page
No positions in stocks mentioned.
The information on this website solely reflects the analysis of or opinion about the performance of securities and financial markets by the writers whose articles appear on the site. The views expressed by the writers are not necessarily the views of Minyanville Media, Inc. or members of its management. Nothing contained on the website is intended to constitute a recommendation or advice addressed to an individual investor or category of investors to purchase, sell or hold any security, or to take any action with respect to the prospective movement of the securities markets or to solicit the purchase or sale of any security. Any investment decisions must be made by the reader either individually or in consultation with his or her investment professional. Minyanville writers and staff may trade or hold positions in securities that are discussed in articles appearing on the website. Writers of articles are required to disclose whether they have a position in any stock or fund discussed in an article, but are not permitted to disclose the size or direction of the position. Nothing on this website is intended to solicit business of any kind for a writer's business or fund. Minyanville management and staff as well as contributing writers will not respond to emails or other communications requesting investment advice.
Get The Minyanville
Daily Recap Newsletter
Stay current on financial news,
entertainment, education and
smart market commentary.