Gold prices continued to retreat Wednesday below psychological resistance a day after the yellow metal settled at its lowest level in more than a month.
Gold for February delivery was shedding $6.30 to $1,689.50 per ounce at the Comex division of the New York Mercantile Exchange. The gold price traded as high as $1,708.30 and as low as $1,686 per ounce, while the spot price was losing $10.20, according to Kitco's gold index.
The $1,686 price was the lowest level seen for the yellow metal since Election Day on November 6, when gold surged by more than $30 per ounce to break away from a then intraday low of $1,683.50.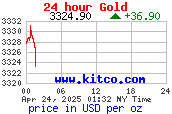 "We obviously broke through some support levels, and then it stopped behaving as well as we'd like it to -- being below $1,700 per ounce," said Oliver Pursche, co-portfolio manager at GMG Defensive Beta Fund.
Whereas a stall in fiscal cliff negotiations and some possible institutional selling of gold (realizing the yellow metal may not reach previously expected higher prices by year-end) plunged the precious metal on Tuesday by more than $25, Wednesday's action saw the commodity slightly fall against a strengthening dollar.
Silver prices for March delivery was dipping $.15 to $32.66 per ounce, while the US Dollar Index was adding 0.18% to $79.82.
Gold benefited early in the trading session from new Chinese Communist Party Chief Xi Jinping announcing that the country would consider more infrastructure investment.
The possibility of Chinese stimulus to infrastructure could have a positive effect on gold as an inflation hedge, should the government there implement the program.
The gold price began to slump back toward the flatline shortly before Automatic Data Processing's employment change report said the United States added 118,000 jobs in November. Economists had predicted some 125,000 jobs.
A Goldman Sachs research note on Wednesday said that it is seeing growing downside risks for gold in 2013 as its analysts have forecast improving conditions in the US economy.
"In the short term, the combination of more easing and weaker growth should prove supportive to gold prices although our modeling suggests that these catalysts are to some extent already priced in. Medium term, however, the gold outlook is caught between the opposing forces of more Fed easing and a gradual increase in US real rates on better US economic growth," the research note said.
The bank lowered its forecast for three-, six-- and 12-month Comex gold prices to $1,825, $1,805, and $1,800 per ounce, respectively, from $1,840, $1,940, and $1,940 per ounce.
Gold mining stocks were mostly lower Wednesday. Shares of Eldorado Gold (NYSE:EGO) were falling 4.2%, and shares of Kinross Gold (NYSE:KGC) were off 3.1%.
Among volume leaders, Barrick Gold (NYSE:ABX) was lowering 1.4%, as Gold Fields (NYSE:GFI) was down 2.3%.
Gold ETF SPDR Gold Trust (NYSEARCA:GLD) was decreasing 0.52%, while iShares Gold Trust (NYSEARCA:IAU) was slipping 0.6%.
< Previous
Next >
View As One Page
Get The Minyanville
Daily Recap Newsletter
Stay current on financial news,
entertainment, education and
smart market commentary.