Gold and Silver Still Better Off Than Earlier This Year
By
NextBigTrade.com
Dec 24, 2012 10:45 am
Technical analysis shows that there may be more underlying strength in silver.

Looking at the short-term picture, the trading on December 20 looked like possibly an important turning point or maybe the beginning of one. It was definitely a throw-in-the-towel day for many metals bulls (possibly a lot of weak hands) as both the GLD and iShares Silver Trust (NYSEARCA:SLV) ETFs saw the biggest downside volume they've seen since March. But looking at a daily chart, their emotional distress was causing them to dump their positions right at the upper range of support from the summer. And the miners showed some nice strength last Thursday as almost every mining stock performed better than the metals that day. This often happens towards the bottom of pullbacks in the metals as first the miners get dumped early in the correction; then the metals get dumped, and the miners show some divergent strength.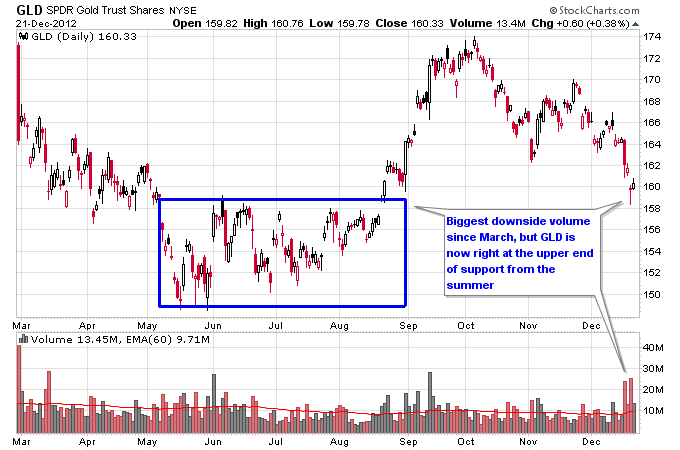 The bottom line is there's some short-term and long-term underlying strength to this recent pullback in the metals. Even if the bears can panic the bulls into selling their positions further into support levels, the bulls still have a positive divergence in momentum that has formed over multiple months and demonstrated long-term support at lower levels. It isn't uncommon to see the lower end of a trading range tested one last time before a new rally either.

Connect with me on Twitter: @nextbigtrade

The original article and much more can be found at: http://www.nextbigtrade.com.
Next >
View As One Page
No positions in stocks mentioned.
Get The Minyanville
Daily Recap Newsletter
Stay current on financial news,
entertainment, education and
smart market commentary.