Gold and Silver Still Better Off Than Earlier This Year
By
NextBigTrade.com
Dec 24, 2012 10:45 am
Technical analysis shows that there may be more underlying strength in silver.

Back in 2011, I postulated that it would be hard for silver to break $25 since the entry point on that trade would be phenomenal for anyone wanting to enter a long-term long position in this ongoing secular bull market. The reason was that it took silver almost three years to build a base at the $20 level and then it broke out of that base on huge volume. So the closer silver got to $25, the better the risk/reward of the trade for someone wanting to buy a pullback, and have strong support at $20 for downside risk. Since silver is likely still in a secular bull market, that would give the trade 20% or so risk to the downside, which is pretty good considering the upside potential could be much higher. So I assumed that $25 would be a good level of support for silver as it entered a new trading range on the correction from $50.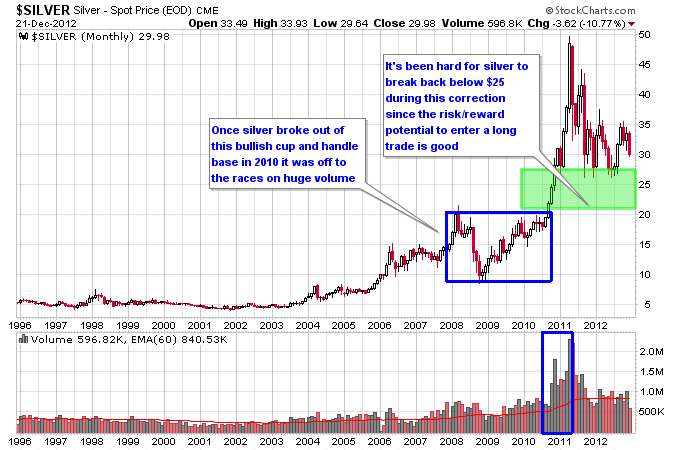 Mining stocks are continuing to demonstrate that they are in the later throes of this ongoing correction in the metals. Back during the summer, almost every mining stock was trading at its lows for the year, or close to them. Now the situation is mixed across the mining space, which indicates some underlying strength. Some mining stocks, such as Agnico-Eagle Mines Limited (NYSE:AEM) and Franco-Nevada Corporation (NYSE:FNV), are barely off of recent highs. Others are about at the mid range between their summer low and their September high, such as Yamana Gold (NYSE:AUY), Hecla Mining Company (NYSE:HL), and Kinross Gold Corporation (NYSE:KGC). And some mining stocks have made new lows below their summer lows. Due to more mining stocks holding above their summer lows, the Market Vectors Gold Miners ETF (NYSEARCA:GDX) to SPDR Gold Trust (NYSEARCA:GLD) ratio continues to form a Stage 1 base with positive divergence in momentum. And this continues to be significant since major rallies in gold usually are accompanied by outperformance by miners.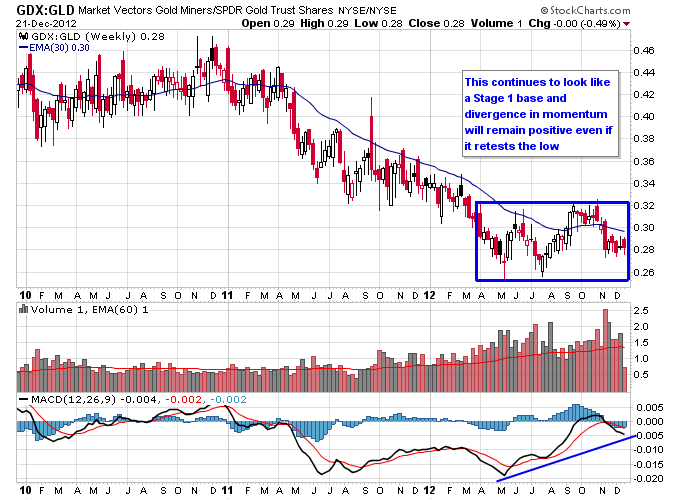 No positions in stocks mentioned.
Get The Minyanville
Daily Recap Newsletter
Stay current on financial news,
entertainment, education and
smart market commentary.