Gold and Silver Still Better Off Than Earlier This Year
By
NextBigTrade.com
Dec 24, 2012 10:45 am
Technical analysis shows that there may be more underlying strength in silver.
Even though this summer was a sentiment wasteland for the precious metals markets, right now feels like a close second. After rallying strongly in August and September, the metals have declined for almost three months now culminating in a recent smash down. And it feels even worse since the reaction of gold and silver to the open-ended $85 billion per month quantitative easing announcement from Ben Bernanke has been the opposite of what most would expect.

Seeing through the negativity, though, the situation is better off for the metals than it was six months ago. During the summer, gold built a multi-month base in the $1500s, which further validated that zone as being a massive support zone. Then the surge higher off of that base has created a big positive divergence in momentum that often precedes a major move higher in price. Even if gold were to drop back into the $1500s, the divergence in momentum should still be in place, and technicians will undoubtedly pick up on that fact if a bunch of demand comes rushing back into the gold market.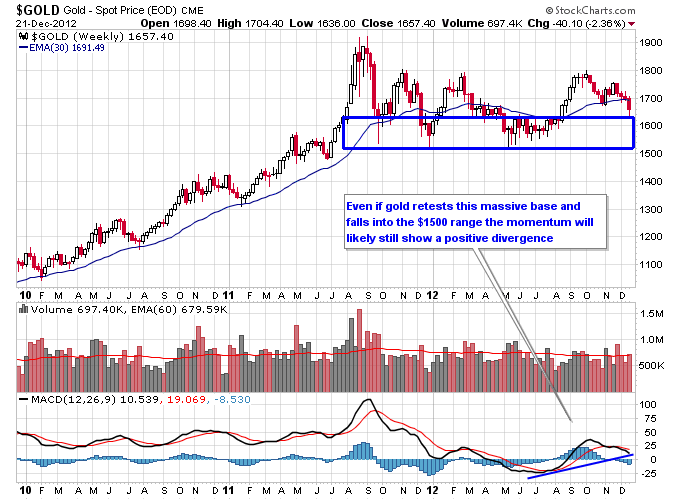 Silver looks similar to gold except the positive divergence in momentum is larger and extends back to the start of 2012. This could be a sign of even more underlying strength in silver than in gold. Notice that just like gold, there's a bunch of hammer candlesticks over the last two years once silver breaks below a certain level. This reinforces the supply and demand dynamics at that level (which is about $27.50 on silver) as strong support. Buyers were able to overwhelm sellers repeatedly once those levels were attempted to be breached to the downside for both metals.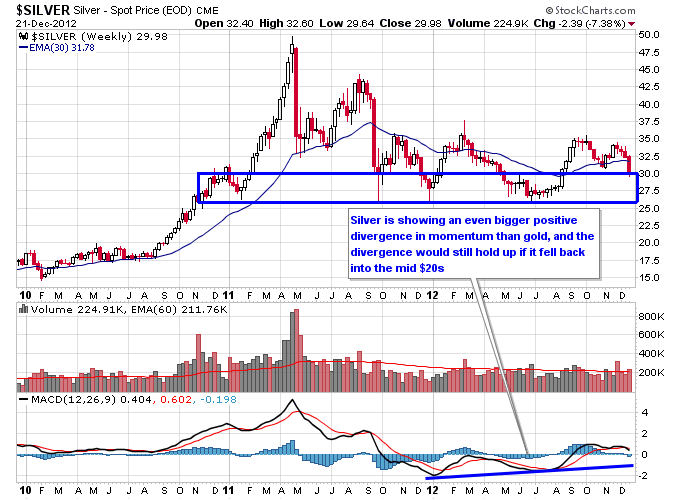 < Previous
View As One Page
No positions in stocks mentioned.
Get The Minyanville
Daily Recap Newsletter
Stay current on financial news,
entertainment, education and
smart market commentary.