Five Things You Need to Know: Fed Philosophy; Subprime: The Story That Will Not Die; Big, Un-Contained CAT; Relationships; Canadians Ruin Checkers
What you need to know (and what it means)!
Minyanville's daily Five Things You Need to Know to stay ahead of the pack on Wall Street:
1. Fed Philosophy
We really didn't want to get into the release of the FOMC minutes, especially after noting yesterday that they really don't matter, but there was one little section that did stand out in the release.
There was one paragraph in yesterday afternoon's release of the FOMC minutes that was noteworthy.
Why? Because, perhaps unwittingly, it neatly sums up the whole of the U.S. central bank's philosophy of "managing" the economy.
Let's take a look at the excerpt:
"Some participants noted a risk that the saving rate could rise more than currently foreseen, particularly if household wealth were depressed by a further softening in house prices or by a less buoyant equity market that might accompany a potential slowing in the growth of corporate earnings. Several participants noted that higher interest rates and a potential tightening in credit availability might also be factors that could contribute to a rise in the personal saving rate."
The "saving rate" the Fed refers to above is the Personal Savings that the Bureau of Economic Analysis tracks.
Here is the most recent BEA Personal Savings Rate chart.

Before we come back to the Fed minutes, to be clear, a negative savings rate does not mean we don't have any "money" - and I use the term "money" in the loosest possible sense of the word, just like the Fed - a negative savings rate means we are spending more than we are making... something that has now happened for eight consecutive quarters.
There are couple of schools of thought here.
The first is that households have financed consumption by running up levels of consumer debt that are unsustainable. So, a "correction" of that debt level will show up as an increase in personal savings, which at this point is the equivalent of a substantial decrease in personal consumption, which is the largest driver of the U.S. economy.
The second is that the negative personal savings rate is a rational response to an increase in productivity, which has induced higher permanent income for households, as well as the dawn of a variety of financial innovations that have removed former barriers to consumption. Or as the San Francisco Fed put it in a 2002 paper, a sustained low (in this case negative) rate of personal savings could simply be "a manifestation of a more efficient deployment of the economy's resources."
Certainly, if by "more efficient deployment of the economy's resources" the Fed really means "the confiscation and transfer of wealth by means of inflation," then yes, the low savings rate is indeed a more "efficient" deployment of resources.
This central bank's philosophy, as revealed by the Fed minutes, is to maintain consumption at all costs.
All costs.
The Fed noted a "risk that the saving rate could rise more than currently foreseen, particularly if household wealth were depressed by a further softening in house prices or by a less buoyant equity market."
In other words, there is a risk that personal savings could rise if asset prices fall.
That is important to understand. What it means is that the Fed is concerned that if asset prices fall, consumers might behave rationally by saving more money!
Indeed, the one thing this Fed absolutely cannot tolerate is rational consumer behavior and fiscal responsibility.

2. Subprime: The Story That Will Not Die
A parade of news articles are conspiring against the "Containment" mantra this morning.

3. Big, Un-Contained CAT
While Fed officials, as opposed to news writers, may be intent on toeing the party line of "Containment," another group apparently refusing to cooperate with the "Containment Mandate" are people who run businesses that are losing money... losing money because housing is not contained.
Caterpillar (CAT), the world's largest maker of earthmoving machines, said second-quarter profit fell 21% because of the weak U.S. housing market and falling demand for truck engines, Bloomberg reported.
Shares of CAT are right now down a little more than 9%, so the miss - despite all evidence to the contrary - is apparently being greeted as something of a "surprise" by the market.
Net income dropped to $823 million, or $1.24 a share, from $1.05 billion, or $1.52, a year earlier, even as revenue climbed 7.1%.
The U.S. housing recession hurt sales of Caterpillar's construction equipment, and the company lowered its 2007 forecast for housing starts to 1.4 million from 1.5 million, Bloomberg said.
Of course, it's a matter of psychology and perception. Google (GOOG) missed earnings yesterday afternoon (reportedly not related to housing) but the stock has plenty of defenders hitting the street this morning, and is currently down a mere 6%... which barely qualifies as a pullback.

4. Relationships
Here's a quiz. Which of these things are least related?
Elephant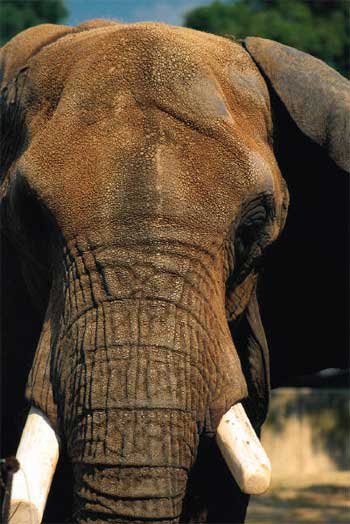 Stock Market

Lawnmower

Economy

Fireman

If you selected Stock Market and The Economy, then you are correct.
There is actually very little correlation between "the economy" (whatever that is) and the "stock market."
That's a difficult thing for us (us being human beings with a deep-seated need to make causal connections) to understand.
It doesn't help that, in addition to desperately searching for causality, we are conditioned to believe that "strong" economic conditions somehow produce strong companies which translate into strong stock investments.
Unfortunately, this is hardly the case - if only it was that easy! - and is among the reasons that very good companies do not automatically translate into very good stocks, and why more than a few poorly run and weak fundamental companies sometimes make excellent stocks.
Actually, we're not really sure how any of the above items are related, but it's Friday and we needed some visuals to illustrate a point about non-linearity.

5. Canadians Ruin Checkers
That's it. You can fold up your checkers board and put it away, because it's over. A Canadian team of researchers has ruined everything by developing a computer program that can win or draw any game of checkers, no matter who the opponent is. Thanks. Thanks a lot.
It took an average of 50 computers nearly two decades to sift through the 500 billion billion possible checkers positions to come up with the solution, according to the BBC.
By comparison, chess has somewhere in the range of a billion billion billion billion billion possible positions.
Jonathan Schaeffer, chair of the department of computer science at the University of Alberta, Canada, told the BBC News website: "This was a huge computational problem to solve - more than a million times bigger than anything that had ever been solved before."
With the vast number of playing possibilities, checkers (also called draughts) is the most complex game to have been solved to date - it was about a million times more complicated to solve than Connect Four, the BBC said.
The implications of this discovery are far reaching.
What this means is that people will no longer be able to enjoy themselves by playing a relaxing game of checkers against Canadian computers, and will now have to settle for playing checkers against other human beings.
This comes as a sharp blow to human isolation and alienation, and if left unchecked, could potentially force human beings to again interact with one another in quiet, pleasant surroundings marred by warmth, kindness and a spirit of intellectual gamesmanship.


A senior citizen sits in the shade and plays checkers against another human being while a child watches with great interest. Gross!



< Previous
Next >
View As One Page
No positions in stocks mentioned.
The information on this website solely reflects the analysis of or opinion about the performance of securities and financial markets by the writers whose articles appear on the site. The views expressed by the writers are not necessarily the views of Minyanville Media, Inc. or members of its management. Nothing contained on the website is intended to constitute a recommendation or advice addressed to an individual investor or category of investors to purchase, sell or hold any security, or to take any action with respect to the prospective movement of the securities markets or to solicit the purchase or sale of any security. Any investment decisions must be made by the reader either individually or in consultation with his or her investment professional. Minyanville writers and staff may trade or hold positions in securities that are discussed in articles appearing on the website. Writers of articles are required to disclose whether they have a position in any stock or fund discussed in an article, but are not permitted to disclose the size or direction of the position. Nothing on this website is intended to solicit business of any kind for a writer's business or fund. Minyanville management and staff as well as contributing writers will not respond to emails or other communications requesting investment advice.

Copyright 2011 Minyanville Media, Inc. All Rights Reserved.
Get The Minyanville
Daily Recap Newsletter
Stay current on financial news,
entertainment, education and
smart market commentary.