Five Things You Need to Know: Smells Like... Victory, Bundesbank Takes a Shine to Gold, Central Bank Aptitude Test, Point/Counterpoint, Generation Gap Successfully Bridged
What you need to know (and what it means)!
Minyanville's Five Things You Need to Know to stay ahead of the pack on Wall Street:
1. Smells like... victory
The headline payroll number came in weaker than expected, with 51,000 jobs added. Subtract the 28,000 jobs that the BLS claims were "created" by small business via the Birth Death Model and you have an actual print of just 23,000, however.
Good news! The unemployment rate dropped to 4.6%.
Bad News! According to MacroMavens Stephanie Pomboy on the Buzz and Banter this morning that is actually due to bad news: a dramatic decline in the labor force (-430,000) as opposed to the creation of new jobs (271,000).
Good News! CNBC reported that the rise in average hourly earnings to 4% year-on-year is the strongest wage growth since March 2001.
Bad News! March 2001 was the official start of the last recession.
Good News! This weaker-than-expected number should relieve pressure on interest rates.
Bad News! The bond market is "selling the news" as rates on the 10-year move back above 4.6%
Meanwhile, did you see that the US Dollar is now at its highest level since July 26, prior to the Fed's decision to take a "pause"?
Commodities down. Stocks down. Bonds down. Dollar up.
Somewhere in Vietnam Robert Duvall is on a beach... "I love the smell of napalm in the morning... smells like... victory." Unfortunately, it appears Duvall and the Fed may not be on the same team. (See Number 3).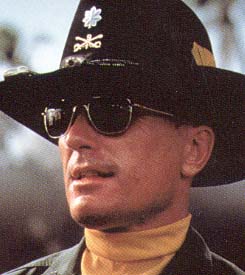 2. Bundesbank Takes a Shine to Gold
Germany's Bundesbank said yesterday that it does not plan to sell any gold from its reserves for a third year, according to the Financial Times. Gold bugs everywhere rejoiced!
Germany's Bundesbank said yesterday that it does not plan to sell any gold from its reserves for a third year which means European central banks will probably not reach the 500 ton Central Bank Gold Agreement (CBGA) sales quota for a second year.
Germany holds 3,423.5 tons of gold exchange reserves and had been expected to be one of the larger central bank sellers, according to the FT.
Italy, another large holder of gold reserves, as well as Ireland and Luxembourg have also not sold any gold over the last two years, according to the newspaper.
According to the FT, much of the weakness in gold this year - it's down more than 20% since its 26-year peak in May - has been attributed to uncertainty over central bank sales under the CBGA.
One problem, however, is that analysts have apparently come up with different figures for the actual sales. Some analysts say the central banks came up 107 tons shy of the 500 ton quota, while Barclays says the full 500 ton quota was reached.
If the full 500 ton quota was reached, then gold bugs will have a handy explanation for the recent weakness.
If it was not reached, then it may mean something else is going on with gold, something more "fundamental."

3. Central Bank Aptitude Test (CBAT)
Solve the following word problem for future inflation expectations. (45 points) Extra credit will be given for answers that utilize the Fed Funds rate. (5 points)
Ben, Donald, Charlie, Tom, Jeffrey and Janet are central bankers.
Over the course of a few days each spoke separately about the risks of inflation and the probabilities of future interest rate hikes.
If Ben is less of an inflation hawk than Donald, who is more of a dove than Tom, but Charlie is more hawkish than Tom and Janet who is more of a dove than either Ben or Jeffrey, what are the proper inflation expectations for 2007?
You may use the following statements for context in your answer:

"The U.S. housing sector is undergoing a "substantial correction," which is a factor in an overall moderation in economic activity, Federal Reserve Chairman Ben Bernanke said Wednesday," according to Dow Jones.
"U.S. interest rates may not be high enough to quell a recent bout of inflation, Philadelphia Federal Reserve President Charles Plosser said on Thursday," according to Reuters.
"Treasuries declined, pushing two-year yields up from the lowest since February, after Federal Reserve Vice Chairman Donald Kohn said he was worried about inflation," Bloomberg reported.
"U.S. economic growth looks set to soften as 2006 nears an end, but strong business investment should prevent any deeper downturn, the president of the Kansas City Federal Reserve, Thomas Hoenig, said on Tuesday," according to Reuters.
"Federal Reserve Bank of Richmond President Jeffrey Lacker said on Wednesday the U.S. economy was on solid ground, inflation was still a worry and he wanted another rate hike last week to keep prices at bay," according to Reuters.
"San Francisco Federal Reserve Bank President Janet Yellen defended the central bank's pause from two years of interest-rate increases and said inflation may recede ``faster than many forecasters expect," according to Bloomberg.


4. The Minyanville Award for Point/Counterpoint Debate Most Likely to be Meaningless by This Time Next Year
MySpace is Getting Older
Point: Half of MySpace's users are 35 or older, the Wall Street Journal reported this morning, which is a good thing that confirms the appeal of social-networking sites is far broader than first thought.
Counterpoint: MySpace is getting older as the site's share of teens 12 to 17 dropped to 11.9% from 24.7% year over year and users between the ages of 35 and 54 now account for 40.6% of the MySpace visitor base, according to Advertising Age, and that's not a good thing because the demographic is less active than teens.
Counterpointcounterpoint: MySpace is the new "Pet Rock" of the Internet. The what? Exactly.


5. Generation Gap Successfully Bridged
According to Reuters, marijuana, also known as pot, the sticky icky, grass, wacky tobacky, the chronic, dope, weed, and long considered to be a "gateway drug" to television-watching and ingesting processed cheese spread, may actually stave off Alzheimer's disease.
New research shows that the active ingredient in marijuana may prevent the progression of the disease by preserving levels of an important neurotransmitter that allows the brain to function.
Researchers at the Scripps Research Institute in California found that marijuana's active ingredient, delta-9-tetrahydrocannabinol, or THC, can prevent the neurotransmitter acetylcholine from breaking down more effectively than commercially marketed drugs.
Those afflicted with Alzheimer's suffer from symptoms which include memory loss, impaired decision-making, diminished language and movement skills; ironically the very same symptoms felt by those who are high on pot, we are told.
The news is:

1) encouraging for aging potheads
2) discouraging for granchildren who dislike the smell of incense
3) encouraging for those who found grandma's brownies dry and tasteless
4) discouraging for all-you-can-eat senior buffet restaurant owners
5) encouraging for the makers of Hippie Stick, "The cane that's also a bong!"

"Why are we standing in water?"
"I can't feel my face."
"Did you leave the stove on?"
"Hahahaha, I think I baked my purse."
"Whoa, my shirt matches your dress!"
"That's not a dress, it's our bedroom curtains."
"Why is there nacho cheese in my pocket?"
"I hope they have jello at the early bird buffet!"
< Previous
Next >
View As One Page
No positions in stocks mentioned.
The information on this website solely reflects the analysis of or opinion about the performance of securities and financial markets by the writers whose articles appear on the site. The views expressed by the writers are not necessarily the views of Minyanville Media, Inc. or members of its management. Nothing contained on the website is intended to constitute a recommendation or advice addressed to an individual investor or category of investors to purchase, sell or hold any security, or to take any action with respect to the prospective movement of the securities markets or to solicit the purchase or sale of any security. Any investment decisions must be made by the reader either individually or in consultation with his or her investment professional. Minyanville writers and staff may trade or hold positions in securities that are discussed in articles appearing on the website. Writers of articles are required to disclose whether they have a position in any stock or fund discussed in an article, but are not permitted to disclose the size or direction of the position. Nothing on this website is intended to solicit business of any kind for a writer's business or fund. Minyanville management and staff as well as contributing writers will not respond to emails or other communications requesting investment advice.

Copyright 2011 Minyanville Media, Inc. All Rights Reserved.
Get The Minyanville
Daily Recap Newsletter
Stay current on financial news,
entertainment, education and
smart market commentary.