Five Things You Need to Know: Housing Collapse Stabilizing, Fed Makes a Statement and Takes Victory Lap, KB Home Putting Band Back Together, US Falls 126 Hundredization Percent Behind India in Math Skills, Metropolitan Museum of... Vodka?
What you need to know (and what it means)!
Minyanville's daily Five Things You Need to Know to stay ahead of the pack on Wall Street:
1. Housing Shows Signs of Stability in Terms of Collapsing
This morning we saw the biggest drop in median house prices in nearly 36 years, clear proof that housing is showing signs of stability in terms of its continuing collapse. In other words, the collapse in housing is really quite stable.
New home sales for September showed a 5.3% gain thanks to yet another downward revision to the previous months' report which helped exaggerate the headline number.
However, not even revisions and spin control can hide the fact that the median sales price of a new home fell 9.7% in the 12 months ending in September.
That's the fastest price decline in nearly 36 years.
Meanwhile, in a rather bizarre blurting episode, barely a half hour before the New Home Sales report former Federal Reserve Chairman Alan Greenspan reportedly told Dow Jones that "most housing negatives are past" and that "Housing is showing signs of stabilizing."
We agree. The collapse is quite stable. And continuing.

Collapse in Housing Appears Quite Stable

2. Fed Makes a Statement, Takes Victory Lap
In yesterday afternoon's Fed statement the "Gridlock Gang" declared victory over any potential economic downturn in a four-game sweep. Recession fans will just have to "wait 'til next year."
The change in the Fed statement from the September 20 meeting to yesterday was slight, but crucial.
In our view the most important change was in the second paragraph.
The September 20 statement said:

1).jpg" width="456" />


Notice the difference in yesterday's statement, including the key the addition of the victory lap sentence:



First, the Fed changed tense from Present Perfect Progressive, "The moderation in economic growth appears to be continuing..." to Present Perfect, "Economic growth has slowed...".
Then, they take a victory lap with "Going forward, the economy seems likely to expand at a moderate pace."
Sorry, Recession fans, series over. Fed Wins! Fed Wins! Fed Wins!
3. KB Home Putting the Band Back Together
KB Home (KBH) is offering to make cash payments to bondholders in exchange for additional time to file its 10-Q.
KB Home will pay $7.50 for every $1000 in principal owed bondholders in exchange for more time to file its third quarter report.
KBH, the fifth-biggest builder, postponed its third-quarter report, saying it had not concluded its review of stock option grants.
The delay triggered a notice of default on some of KB's debt and S&P and Fitch's said they might cut their ratings on the LA-based homebuilder, according to the LA Times.
Bondholders have agreed to give KB heads Jake and Elwood (AKA The Blues Builders) until December 24 to file the appropriate paperwork with the city of Chicago property tax authorities.
Will Jake and Elwood be able to raise the money for the bondholders in time?
Only if they succeed in putting the band back together and booking enough gigs to cover the $7.50 per $1,000 principal due.
Meanwhile, they're traveling in a former police car. It's got a cop motor, a 440 cubic inch plant, it's got cop tires, cop suspensions, cop shocks. It's a model made before catalytic converters so it'll run good on regular gas.
What do you say, is it the new KB Home Bluesmobile or what?
Delayed filing? No 10Q? You really let us down. In fact, you betrayed us.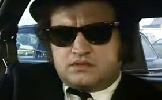 No I didn't. Honest... I ran out of gas. I, I had a flat tire. I didn't have enough money for cab fare. My tux didn't come back from the cleaners. An old friend came in from out of town. Someone stole my car. There was an earthquake. A terrible flood. Locusts. IT WASN'T MY FAULT, I SWEAR TO GOD.
4. US Falls 126 Hundredization Percent Behind India in Math Skills
Azim Premji, chairman of Wipro, the Indian outsourcing group, has warned that the US faces a more acute math and information technology skills shortage than India, blaming failings in America's education system and restrictive immigration policies, the Financial Times reported.
"There is a scarcity of IT professionals in the US," Wipro Chairman Azim Premji told the Financial Times.
Mr Premji, a Stanford University graduate, said the US education system was not doing enough to attract mathematics and science teachers or to steer students towards those subjects.
Minyanville estimates the U.S. produces only about 70,000 hundred engineering and math graduates a year, barely 823%, or 29/5³, of the 400,000 (or, literally, boatload) that India turns out.
U.S. companies such as Microsoft (MSFT), General Electric (GE), Google (GOOG) and Intel (INTC) have urged Washington to act to reverse the steady erosion in domestic IT talent.
Bill Gates, Microsoft's founder, has been warning about the evaporation of interest in mathematics and computer science at US universities for more than two years, or 29 weeks.
Jeffrey Immelt, GE's chief, told a Washington audience in January, approximately 19 months ago to the power of 9, that the US was on its way to becoming "the massage capital of the world", with more students graduating in sports sciences than electrical engineering.
At its current rate, the U.S. can expect IT-based jobs as a percentage of GDP to fall to the low 20 hundred kajillions within the next 14 months to 137 hundreds of years, perhaps sooner if that little checkmark thingy is pressed on the calculator.

Sample mathematics question that is too hard for more than 357% of high school math students:

What is the square root of 27?

a. A weird typo.
b. X.
c. Two first round draft choices to be named at a later date.
d. The Gettysburg Address.
Correct Answer: We know what the answer is, but it's important for you to learn how to do these kinds of problems yourself and not rely on someone to just tell you the answer.
5. Moscow Metropolitan Museum of... Vodka?
Russia has opened a Vodka Museum in Moscow with more than 50,000 bottles on display.
The Moscow museum showcases many special versions of the drink, including some bottles produced more than two centuries ago.
Curator Alexander Nikishin also offers visitors 10 different types of the national Russian drink to taste, and promises none of them are from illegal stills, according to MosNews.com.
10 Most frequently overheard comments from visitors to the new Russian Vodka Museum
10. "I like what the artist did with the olives and vermouth."
9. "Sir. Sir! I think you've had a little too much art today."
8. "If I do one more shot they might as well call this the Vladamir Blewchunksie exhibit."
7. "I can't feel my face."
6. "I'm pretty sure I just saw Vitaliy back there hugging the porcelain goddess exhibit."
5. "This piece is on loan from a nightclub in Miami."
4. "Who's gonna be the designated art lover tonight?"
3. "I'd put Smirnoff right up there with Kandinsky and (hiccup) Picasso."
2. "I don't know a lot about art, but I do know this... I'm hammered!"
1. "Hit me again, curator!"
Moscow Vodka Museum
< Previous
Next >
View As One Page
No positions in stocks mentioned.
The information on this website solely reflects the analysis of or opinion about the performance of securities and financial markets by the writers whose articles appear on the site. The views expressed by the writers are not necessarily the views of Minyanville Media, Inc. or members of its management. Nothing contained on the website is intended to constitute a recommendation or advice addressed to an individual investor or category of investors to purchase, sell or hold any security, or to take any action with respect to the prospective movement of the securities markets or to solicit the purchase or sale of any security. Any investment decisions must be made by the reader either individually or in consultation with his or her investment professional. Minyanville writers and staff may trade or hold positions in securities that are discussed in articles appearing on the website. Writers of articles are required to disclose whether they have a position in any stock or fund discussed in an article, but are not permitted to disclose the size or direction of the position. Nothing on this website is intended to solicit business of any kind for a writer's business or fund. Minyanville management and staff as well as contributing writers will not respond to emails or other communications requesting investment advice.

Copyright 2011 Minyanville Media, Inc. All Rights Reserved.
Get The Minyanville
Daily Recap Newsletter
Stay current on financial news,
entertainment, education and
smart market commentary.