Five Things You Need to Know: Fed Sits Back, Relaxes, Dollar Continues Gearing Up for Pending Collapse, Pending Dollar Collapse to Benefit Pending Soaring Gold Price, More Divergences, Facial Profiling
What you need to know (and what it means)!
Minyanville's Five Things You Need to Know to stay ahead of the pack on Wall Street:
1. Fed Sits Back, Relaxes
The Federal Reserve can "sit back" and let the bond market play the role of automatic stabilizer in the economy, Bill Poole, president of the St Louis Fed, told the Financial Times.
Poole, a voting member of the Fed said that the fall in long-term interest rates within the bond market had reduced pressure on the Fed to respond immediately to signs of economic weakness.
"The decline in long rates is working as a built-in stabilizer for the economy," Poole told the Financial Times, noting that the fall in bond market rates "will tend to bring down mortgage rates" as well.
On the other hand, Mr. Poole said, "if we get an upside surprise, the long rate clearly has a lot of room to rise without the FOMC doing anything."
"The FOMC can some of the time – maybe even much of the time – sit back and do relatively little, relying on the stabilizing effect of market reactions to current data," he said. "We don't have to do it all."
This is an "attractive" situation for the Fed, made possible when inflation expectations were "well anchored", he said.
Meanwhile, as the Fed sits back and relaxes, the long end 30-year yield has quietly risen from 4.67% to 4.87% over the past two weeks.
But I'm sure they know what they're doing.

Take it easy, good buddy.
Save the heavy lifting for the depression.


St. Louis Fed President Bill Poole


2. Dollar Continues Gearing Up for Pending Collapse
The US Dollar Index this morning briefly touched 87 as it edged still closer to its pending collapse.
The reasons for the forthcoming dollar collapse are many.
According to George Soros, for example, the conversion of oil transactions from dollars to euros by Russia and Middle East oil exporters will cause the dollar to collapse.
Another reason, according to some, is the pending collapse of the U.S. consumer.
And still others say the pending dollar disaster will be the result of something unforeseen that we cannot prepare for because it is... er, unforeseen.
What may be getting lost in the shuffle of predictions here, however, is that the dollar has already collapsed.
Of course, it's possible that things that collapse can always get more collapseder.




3. Pending Dollar Collapse to Benefit Pending Record Gold Price
Gold prices may surpass record-high levels next year as the dollar weakens, according to Baker Steel Capital Managers in London, Bloomberg reported.
Gold may reach $700 an ounce by year-end, and next year surpass the record $850 set January 1980, said Trevor Steel, who manages $600 million in commodity assets at Baker Steel.
"Gold will rise because of the structural weakness in the dollar,'' said Steel, who's been tracking the bullion industry for the past 15 years and is speaking at a three-day conference in Hong Kong that runs from today to Oct. 12, Bloomberg reported.
Meanwhile, Greg Wilkins, chief executive officer of Barrick Gold (ABX), said at a conference in Australia last week, "What we see with inflation is the Fed's tightening, and higher interest rates are negative for gold. I think it's going to be more the U.S. dollar trade as a driver of interest in gold.''
In addition to Steel, Citigroup last week also forecast a new record for gold.
And commodities guru Jim Rogers, who foresaw the start of the commodity rally in 1999, predicted in April gold will ultimately soar to $1,000 an ounce.
Perhaps, but note the dollar/gold relationship, below. As gold has made new highs over the past year the dollar has not made new lows.



4. Still More Divergences
The Nasdaq-100 had a good day yesterday, tacking on 18 points to close at 1691.08, its highest close since May 10 . But some important components are sitting this recent surge out.
Year-to-date the NDX is up 2.79% while the PHLX Semiconductor Index is still down 4.82%. Twelve of the 100 stocks in the NDX are Semiconductor stocks, though their weighting is actually greater than 12% because the NDX is a capitalization-weighted index.
Below is a chart showing the recent surge in the NDX with the SOX Index overlaid.



5. Facial Profiling
Baby, your face is so easy for my brain to process. Mmmm, mmmm.
In the late 1870s, Sir Francis Galton developed an image of the prototypical "face of crime" by creating composite photos of men convicted of serious offenses.
Surprisingly, what Galton discovered is that the "face of crime" is shockingly handsome, according to Seed Magazine.
Studies have since shown that people find what are called "prototypical faces," or those with average features, the most attractive, though it has been less understood why that is the case.
According to the article, a paper published in the September issue of the journal Psychological Science says prototypical faces are pleasing because they're easy for the brain to process.
The authors challenge the popular idea from evolutionary psychology that people find prototypical faces attractive because average features indicate good health.
Our Protocynical Face Theory has always been that people find faces attractive because they have a lot of money hanging off them.

Sir Francis Galton... not a prototypical face.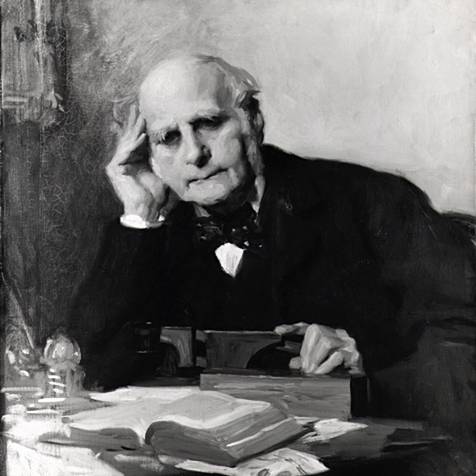 < Previous
Next >
View As One Page
No positions in stocks mentioned.
The information on this website solely reflects the analysis of or opinion about the performance of securities and financial markets by the writers whose articles appear on the site. The views expressed by the writers are not necessarily the views of Minyanville Media, Inc. or members of its management. Nothing contained on the website is intended to constitute a recommendation or advice addressed to an individual investor or category of investors to purchase, sell or hold any security, or to take any action with respect to the prospective movement of the securities markets or to solicit the purchase or sale of any security. Any investment decisions must be made by the reader either individually or in consultation with his or her investment professional. Minyanville writers and staff may trade or hold positions in securities that are discussed in articles appearing on the website. Writers of articles are required to disclose whether they have a position in any stock or fund discussed in an article, but are not permitted to disclose the size or direction of the position. Nothing on this website is intended to solicit business of any kind for a writer's business or fund. Minyanville management and staff as well as contributing writers will not respond to emails or other communications requesting investment advice.

Copyright 2011 Minyanville Media, Inc. All Rights Reserved.
Get The Minyanville
Daily Recap Newsletter
Stay current on financial news,
entertainment, education and
smart market commentary.