The Oil Rally Has Dripped Dry
By
Scutify
Jul 28, 2016 4:22 pm
This article is published in collaboration with Scutify, where you can find real-time markets and stock commentary from Robert Marcin, Cody Willard and others. Download the Scutify iOS App, the Scutify Android App or visit Scutify.com.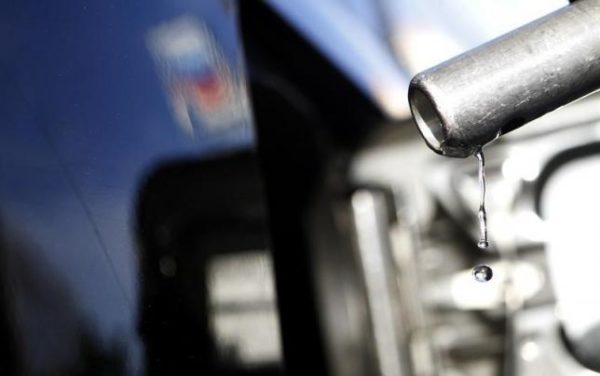 Crude Oil had a very strong move higher off of a bottom at the beginning of the year. 6 months into the rally it had moved almost 100% higher. Everything was looking up. And then it started to roll lower in July. With just two trading days left if the month it is showing a very strong move downward. Is this normal digestion of the run higher? Or has the rally fizzed and dried up?
The long term monthly chart below may give some insights. The first thing to focus on is the rising trend line off of the 1999 low. This held Oil as support for 16 and a half years until it broke down below it in August last year. After the break down Crude Oil continued lower until printing two candles with long lower shadows, a bottom signal, in January and February. The rise began from there and look where it found trouble. Right at that trend line. What was once support was now resistance.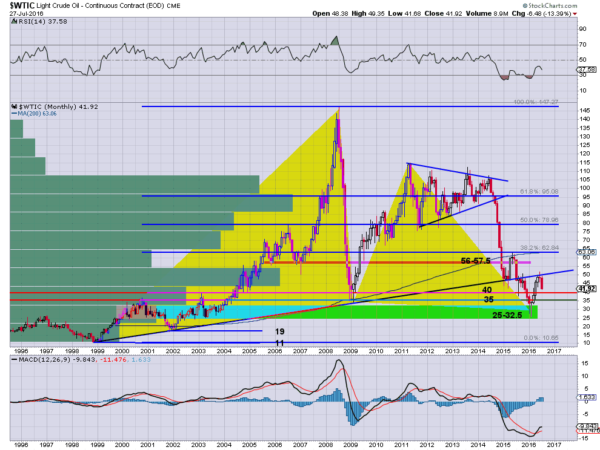 A doji candle at resistance, signaled indecision. And that resolved to the downside at the start of July. And with gusto. Without a strong bounce it will print a bearish Marubozu candle for July. This would be one indication that the entire rally from January to June was just a Dead Cat Bounce. The chart would also give a possible downside target.
Looking at the bounce from April 2015 to June 2015 and then the retrace lower there is a parallel like read to this move. The bounce was the same height and the drop from June 2015 to the low in January, a move of $35, would give a target below to $16. There are no guarantees that it will get to $16. And there is real support just below $35 and then at the Potential Reversal Zone (PRZ) of the Bat around $29. What does seem clear though is that the long term trend for Oil has turned back lower.
Dragonfly Capital is expanding its normal Mid Summer Sale. Instead of the normal 10% off an Annual Subscription, you can get 20% off of the first year, now through Sunday! That is only $499 for the first year! This offer will not be around past the weekend though. Don't miss out. Sign up here.
---
This article was written by Gregory W. Harmon for Dragonfly Capital on July 28, 2016.
---
This article published in collaboration with Scutify, the best app for traders and investors. Download the Scutify iOS App, the Scutify Android App or visit Scutify.com.
< Previous
Next >
View As One Page
Get The Minyanville
Daily Recap Newsletter
Stay current on financial news,
entertainment, education and
smart market commentary.