Emerging Markets Have Emerged
By
Scutify
Mar 16, 2017 11:01 pm
This article is published in collaboration with Scutify, where you can find real-time markets and stock commentary from Robert Marcin, Cody Willard and others. Download the Scutify iOS App, the Scutify Android App or visit Scutify.com.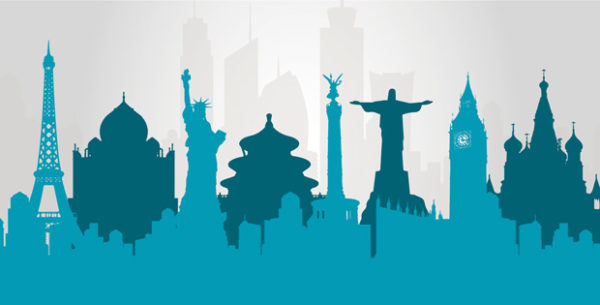 World stock markets have had incredible moves to the upside since the low of the Financial Crisis 8 years ago. But one sector of the market has just not done as well: Emerging Markets. After the March 2009 low the Emerging Market ETF did rally with the world. But it was only able to retrace 78.6% of the move lower before topping out in early 2011. Developed markets pulled back slightly and then raced higher again. Emerging Markets pulled back, and sat there...... for 4 years. And when they did finally break the malaise it was with another move lower in 2015. Seems they have taken all the hits but not benefited from the moves higher. What gives?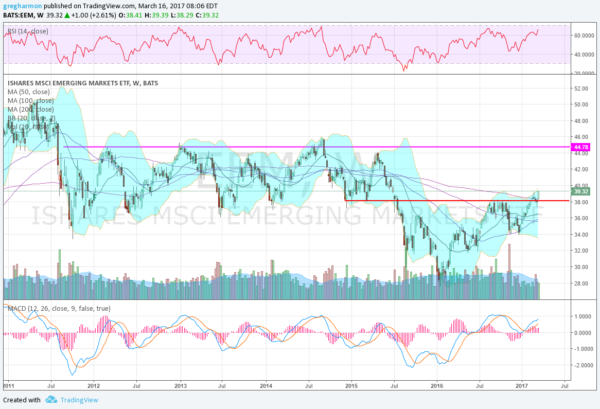 The good news for Emerging Market investors is that it seems that may be changing. Since making a low with the market in early 2016, Emerging Markets have been trending higher. In the summer of 2016 they reached what had been a key support area. This acted as resistance and knocked them back lower. But they found support at a higher low and reversed. 4 weeks ago the ETF was back at that same resistance and stalled. It made a reversal candlestick pattern over the next three weeks but with tight body candles. Then this week it moved back higher.
It is now looking to close out the week above the prior support/resistance zone and with a strong body candle. The Bollinger Bands® are opening to the upside and momentum is building as shown with a bullish and rising RSI and MACD. Things are looking up. Emerging Markets still have a long way to go to reach their all-time highs and join the rest of the world party. But they have emerged from the depths and are looking to continue in the right direction.
If you like what you see above sign up for deeper analysis and trading strategy by using the Get Premium button above. As always you can see details of individual charts and more on my StockTwits page.
The information in this blog post represents my own opinions and does not contain a recommendation for any particular security or investment. I or my affiliates may hold positions or other interests in securities mentioned in the Blog, please see my Disclaimer page for my full disclaimer.
blog comments powered by Disqus
---
This article was written by Greg Harmon for Dragonfly Capital on Mar 16, 2017.
---
This article published in collaboration with Scutify, the best app for traders and investors. Download the Scutify iOS App, the Scutify Android App or visit Scutify.com.
< Previous
Next >
View As One Page
Get The Minyanville
Daily Recap Newsletter
Stay current on financial news,
entertainment, education and
smart market commentary.