By
Scutify
Oct 19, 2016 8:49 am
This article is published in collaboration with Scutify, where you can find real-time markets and stock commentary from Robert Marcin, Cody Willard and others. Download the Scutify iOS App, the Scutify Android App or visit Scutify.com.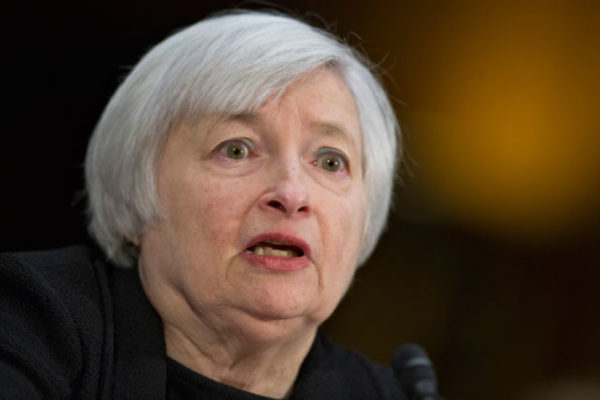 Inflation is coming, and Janet Yellen is now getting scared. Makes for a great lead doesn't it? The Fed appears to be on hold until after the election with pressure building to make a move by raising rates. So no wonder Janet looks scared. If inflation is rising then her committee might fall behind and need to move faster to get back in control. That is historically how it has worked though. Talk a big game of staying in front of inflation but lag the actual move and need to catch up.
Enough of the history lesson though. It does look like inflation may be building. I get my evidence from the chart below of the CRB Index. This used to be the Fed's go to measure of inflation before the PCE thing was created. After 4 years of slowly falling inflation from 2011, the CRB Index dropped precipitously at the end of 2014 as Oil prices started to fall. It settled for a while in early 2015 before another run lower to the end of the year and a bottom in early 2016.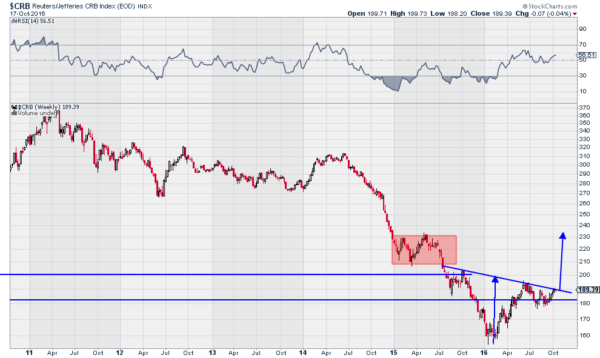 Since that bottom though the CRB Index is up 23%. The level is not so bothersome, but the trajectory is what matters. Currently the CRB Index is moving up off of a September low and at the neckline of an Inverse head and Shoulders pattern. A break of this neckline, by a move over 191, would trigger a target of 235 to the upside.
That is right at the top of the consolidation zone from 2015. Again this is not an alarming level for the CRB, but the direction is more important. Momentum is rising as well. The RSI at the top of the chart shows it in the bullish zone and rising short term. Time for the Fed to be in ready mode.
---
This article was written by Greg Harmon for Dragonfly Capital on Oct 18, 2016.
---
This article published in collaboration with Scutify, the best app for traders and investors. Download the Scutify iOS App, the Scutify Android App or visit Scutify.com.
< Previous
Next >
View As One Page
Get The Minyanville
Daily Recap Newsletter
Stay current on financial news,
entertainment, education and
smart market commentary.