Wednesday Apple Rumors: 2016 MacBook Pro Keyboard Problems
By
Scutify
Feb 22, 2017 10:57 pm
This article is published in collaboration with Scutify, where you can find real-time markets and stock commentary from Robert Marcin, Cody Willard and others. Download the Scutify iOS App, the Scutify Android App or visit Scutify.com.
Leading the Apple Inc. (NASDAQ:AAPL) rumor mill today is news of MacBook Pro keyboard problems. Today, we'll look at that and other Apple Rumors for Wednesday.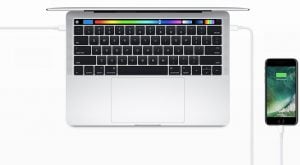 Source: Apple
MacBook Pro Keyboards: Some owners of the 2016 MacBook Pro are having trouble with its keyboard, reports MacRumors. Owners of the devices have taken to Apple's official support forums to air their complaints. The problems include keys not working, lack of a uniform feel and high-pitched sounds coming from some keys when pressed. Many of these customers have noted that the problems are most prevalent when the laptop is warm.
iCloud.net Purchase: AAPL has purchased the domain for iCloud.net, TechCrunch notes. The tech company bought the domain without any major announcement. It has been working to obtain domains related to its services lately. The iCloud.net domain was owned by a small Asian social networking company. This company has announced to users that the service is shutting down. This puts AAPL one step closer to owning all of the domains connected to its iCloud service. However, it still needs to get its hands on iCloud.co.uk.
Cambridge Siri Lab: Apple has finally confirmed the existence of its Siri research and development lab in Cambridge, U.K., reports AppleInsider. The company has put up a sign outside of the building that has its logo on it. The lab was the subject of rumors and many leaks lead people to believe that it is indeed an research and development lab for Siri. While the sign doesn't include any text to confirm that the lab is used for Siri research and development, it does at least confirm that the tech company owns the location.
Check out more recent Apple Rumors or
Subscribe to Apple Rumors :
RSS
---
This article was written by William White for InvestorPlace on Feb 22, 2017.
---
This article published in collaboration with Scutify, the best app for traders and investors. Download the Scutify iOS App, the Scutify Android App or visit Scutify.com.
< Previous
Next >
View As One Page
Get The Minyanville
Daily Recap Newsletter
Stay current on financial news,
entertainment, education and
smart market commentary.