December will be Critical for Copper
By
Scutify
Nov 30, 2016 8:29 pm
This article is published in collaboration with Scutify, where you can find real-time markets and stock commentary from Robert Marcin, Cody Willard and others. Download the Scutify iOS App, the Scutify Android App or visit Scutify.com.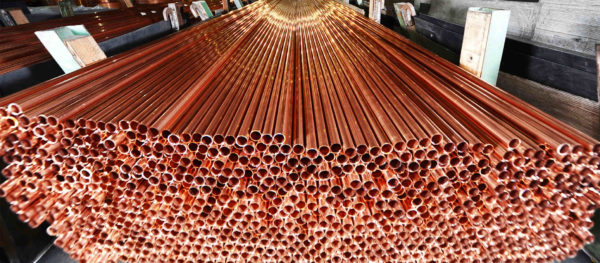 Copper was long thought to be a harbinger for the economy. And in an economy built on housing you can see why. Every house is full of copper pipes, not just in the US but everywhere, like China. For this it gained the nickname Dr. Copper. And that was well and good until Dr. Copper started to show that he had not kept up with his learning in 2011. After a sharp 2 year recovery following the decline during the financial crisis, Copper stalled.
Mid way through 2011 it looked like a settling process, or consolidation may be in order. But the pullback continued, breaking through support in 2014 and continuing lower. Technically it had established a target to the downside to $1.40 from a peak at about $4.60. This would give back 80% of the full move higher since 60 cents in 2001 and test the financial crisis low. But in late 2015 it stalled in the 4 year run to the downside.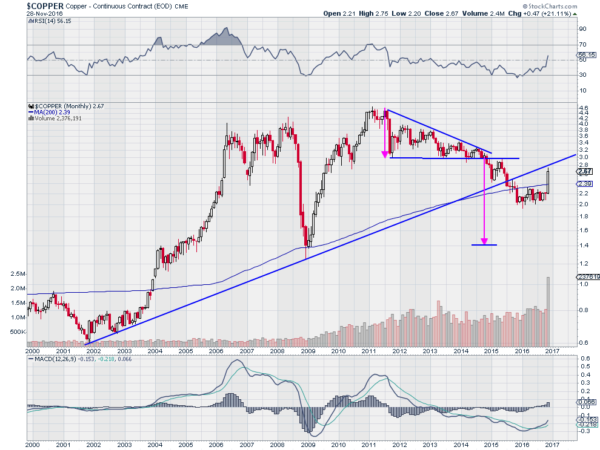 Dr. Copper had already given up a rising 13 year trend support line, its 200 month SMA and almost 45% from its 2011 high. It had been written off for dead. But it just kept holding there, over $2, marking time. That was until this month. November 2016 saw a surge in Copper. The media calls it the Trump trade. But the FOMC is now clear to raise rates and foreign governments are weakening their currencies, so that may have something to do with the move. Whatever the cause, Copper exploded to the upside.
It is now back over its 200 month SMA and approaching that rising trend line, now seeing it as resistance. Will it continue higher? Often there is a retest of a long term break down level, like this now 14 year line, before continuing the move lower. As we wait and watch in December to see if it stops or drives higher there are a few things to watch for.
First, the November move happened on strong volume. Continued strong volume in December would be a plus for Copper. The RSI has crossed the mid line, and a move over 60 would also add weight to the argument for a reversal. The MACD has also crossed up and is rising. A move over zero would also add weight to the bull case for Copper. But most importantly to confirm a reversal, a move and close over that rising trend line will be the sign. It may happen in December. Keep watching Dr. Copper, he has been studying again.
Take advantage of the Holiday Sale here!

If you like what you see above sign up for deeper analysis and trading strategy by using the Get Premium button above. As always you can see details of individual charts and more on my StockTwits page.
The information in this blog post represents my own opinions and does not contain a recommendation for any particular security or investment. I or my affiliates may hold positions or other interests in securities mentioned in the Blog, please see my Disclaimer page for my full disclaimer.
---
This article was written by Greg Harmon for Dragonfly Capital on Nov 29, 2016.
---
This article published in collaboration with Scutify, the best app for traders and investors. Download the Scutify iOS App, the Scutify Android App or visit Scutify.com.
< Previous
Next >
View As One Page
Get The Minyanville
Daily Recap Newsletter
Stay current on financial news,
entertainment, education and
smart market commentary.