New House Sales Show Continued Improvement
By
Lee Adler
Mar 23, 2012 3:35 pm
Unfortunately, at this rate of improvement, it will be a very long time before most Americans feel any benefit.
While the media was touting a miss on consensus expectations, the actual unadjusted new house sales data did show a big improvement over the year ago performance.


That may not be saying much, considering the rock-bottom levels this is starting from. Nevertheless, addition is better than subtraction. No matter how small, any increase at all from these levels is a net add for the US economy. Unfortunately, at this rate of improvement, it will be a very long time before most Americans feel any benefit.

Here are the quick facts. Sales were 25,000 in February vs. 22,000 in February 2011. The month-to-month change was a gain of approximately 14% vs. 5% in 2011. The media touted a miss of economists' consensus expectations, but what else is new? Economists' guesses nicely fit a random distribution. In my opinion, they don't hold much water.

The bigger problem with the reports was that they indicated that sales were down, which is false. They were using a seasonally adjusted number that has no basis in reality. The actual number was up versus January and up versus 2011.

It is important to note that these numbers are based on a small sample survey, have a wide margin of error, and are subject to big revisions in ensuing months. On the other hand, it is rare that a reported gain is subsequently revised to a decline in ensuing months.

The headlines touting a decline are flat-out wrong. The Commerce Department also reports the actual, not seasonally adjusted numbers, but mainstream media does not, which is unfair: If they're going to report one of the numbers and not the other, the least they can do is report the actual number and do a little analysis.

We do have to be careful because this data is based on sales contracts. To that extent, it's a good barometer of relative demand, but we also know that large numbers of sales are falling through. The NAR reported a contract failure rate of 31% of existing house sales in February versus 9% last year. I doubt that builder sales blowups are that high. Builders should be far better prepared in terms of having any problems with appraisers, and they are likely to have done a better job of qualifying buyers than Realtors do. On the whole, I would guess that final sales will be a little better versus last year. It's not much, but it's better than media reports are representing.

Additional data shows that the actual inventory to sales ratio was 6.0 in February vs. 8.2 in February 2011. That's a huge improvement, but did you see that reported anywhere?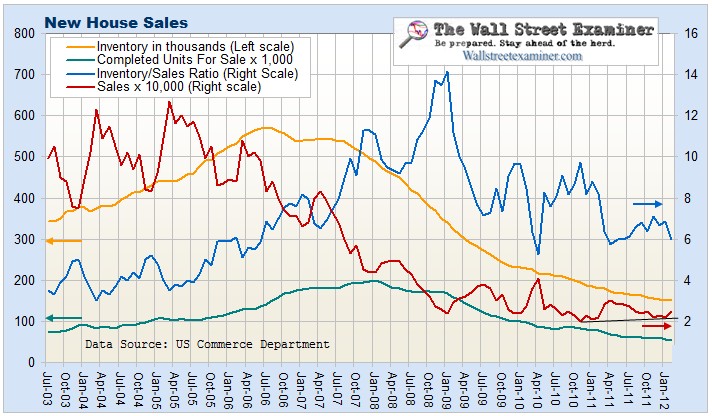 The big jump in the NAHB builder survey was not matched by the increase in sales. Either builder perceptions are distorted, or the Commerce Department missed something. Next month's data should be enlightening.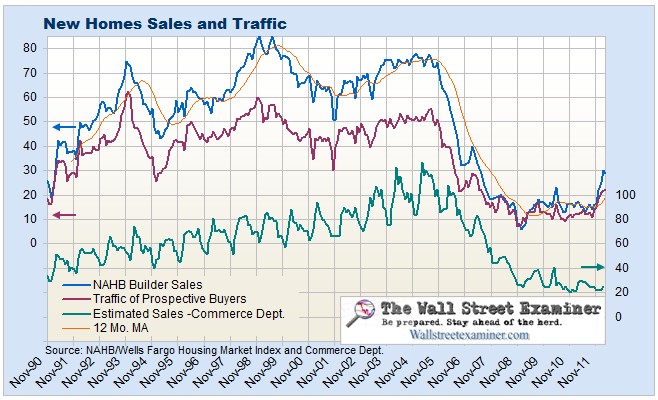 Reported contract sale prices jumped in February and they are now up 6.2% versus last February. Median reported sale prices have been making higher lows for two years, but they have yet to break out to higher highs versus the peak levels of the past 15 months. While prices seem to have bottomed, it is not clear yet that they are headed higher.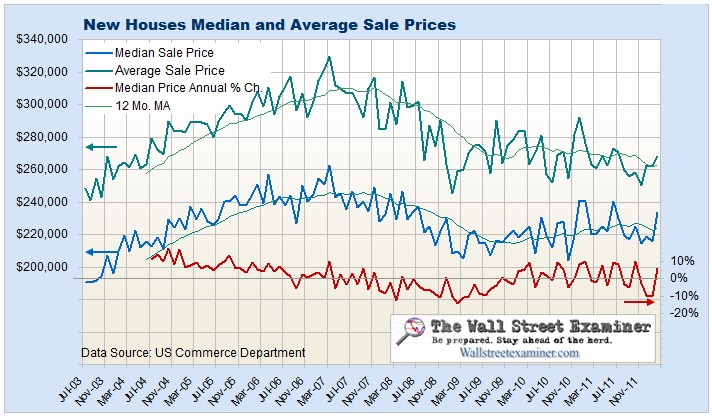 We should note that these minimally improved levels of pricing are happening at a much lower level of supply and sales volume than were considered normal in the past. There's potential for pricing leverage on even a small increase in effective demand. That's a condition that may be hard to meet, with slow growth in full time employment, and most of that growth in low wage jobs. But just last week I saw an ad from a large Florida builder screaming at buyers to beat the price increase coming in April. It's been about five or six years since I have seen one of those, but it suggests that with the low levels of inventory, pricing power may be returning to some more active markets where prices have cratered.
Editor's Note: Read the full, unedited article here. Try Wall Street Examiner's Professional Edition risk free for 30 days. Click here for more information.
Twitter: @Lee_Adler
< Previous
Next >
View As One Page
No positions in stocks mentioned.
The information on this website solely reflects the analysis of or opinion about the performance of securities and financial markets by the writers whose articles appear on the site. The views expressed by the writers are not necessarily the views of Minyanville Media, Inc. or members of its management. Nothing contained on the website is intended to constitute a recommendation or advice addressed to an individual investor or category of investors to purchase, sell or hold any security, or to take any action with respect to the prospective movement of the securities markets or to solicit the purchase or sale of any security. Any investment decisions must be made by the reader either individually or in consultation with his or her investment professional. Minyanville writers and staff may trade or hold positions in securities that are discussed in articles appearing on the website. Writers of articles are required to disclose whether they have a position in any stock or fund discussed in an article, but are not permitted to disclose the size or direction of the position. Nothing on this website is intended to solicit business of any kind for a writer's business or fund. Minyanville management and staff as well as contributing writers will not respond to emails or other communications requesting investment advice.

Copyright 2011 Minyanville Media, Inc. All Rights Reserved.
Get The Minyanville
Daily Recap Newsletter
Stay current on financial news,
entertainment, education and
smart market commentary.